Engaging with Children
Taking an active approach to support your school and engaging with children, we often hold events and competitions to encourage children to try new foods, think about healthy eating choices and promote positive mental health well-being.
Our latest Competition was our Schools Christmas Card Design Competition in 2019 detailed below.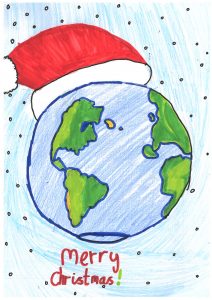 In 2019, we launched an annual Christmas card design competition and invited pupils from local schools to design our Christmas card. This is the winning design, which was based on the theme of 'Reuse,Reduce and Recycle' at Christmas. This is just one way that we supported the curriculum in creativity and learning. You can read more about our Christmas Card Design Competition here on our news page.
We will of course notify our schools of future competitions when the current
Pandemic is over and when schools are able to return back to their normal curriculum.