Local boy's birthday dream come true
Posted On: 28 Mar 2016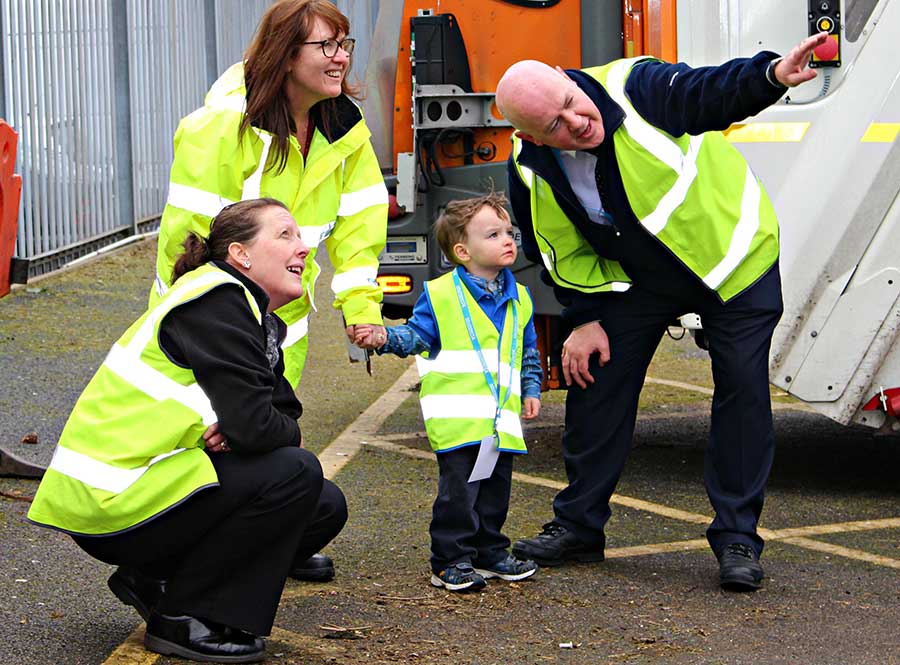 On Thursday 24 March 2016, Jacob Stokes, aged 3 from Offerton, visited the Solutions SK Refuse site to learn more about the work carried out by local bin men. For Jacob, this was a dream come true and the perfect birthday present.
Jacob's grandma, Lynn Sayers, says
Jacob is obsessed with bin men and gets so excited whenever he sees the vans passing through our streets. Other three year olds might be watching Peppa Pig but Jacob just wants to watch videos showing bin trucks – he loves them.

On visiting the site, the team at Solutions SK pulled out all the stops to ensure this was a very special birthday celebration for Jacob. The team surprised Jacob with his own, personalised uniform including a polo shirt, hi-vis vest and hard hat. Jacob then received a tour of the grounds, a demonstration of the trucks loading bins, and even sat in the driver's" seat himself.
Jacqueline Cohen, Customer Relations Engagement Manager for Solutions SK comments,
We were so pleased to do this for Lynn and her grandson.  We provide many services to our local community and businesses around Stockport – and will continue to do special events like this.
After the event, Jacob's grandma Lynn Sayers, said
I can't thank Solutions SK enough for today, it's been fantastic.  It was brilliant to see him interact with the staff, who were all amazing.  It's unbelievable – the amount of bins collected each year and the different types of vehicles for different areas.   We as  the  general public don't comprehend how  much work goes into our refuse collection.  It's something we take for granted, so it was good to learn a about  what's involved.
Thanks goes out to the team at Intersafety who kindly organised Jacob's very own 'Bin man' outfit, making the experience even more memorable. Each year, Solutions SK empty 13 million bins in the Stockport area.