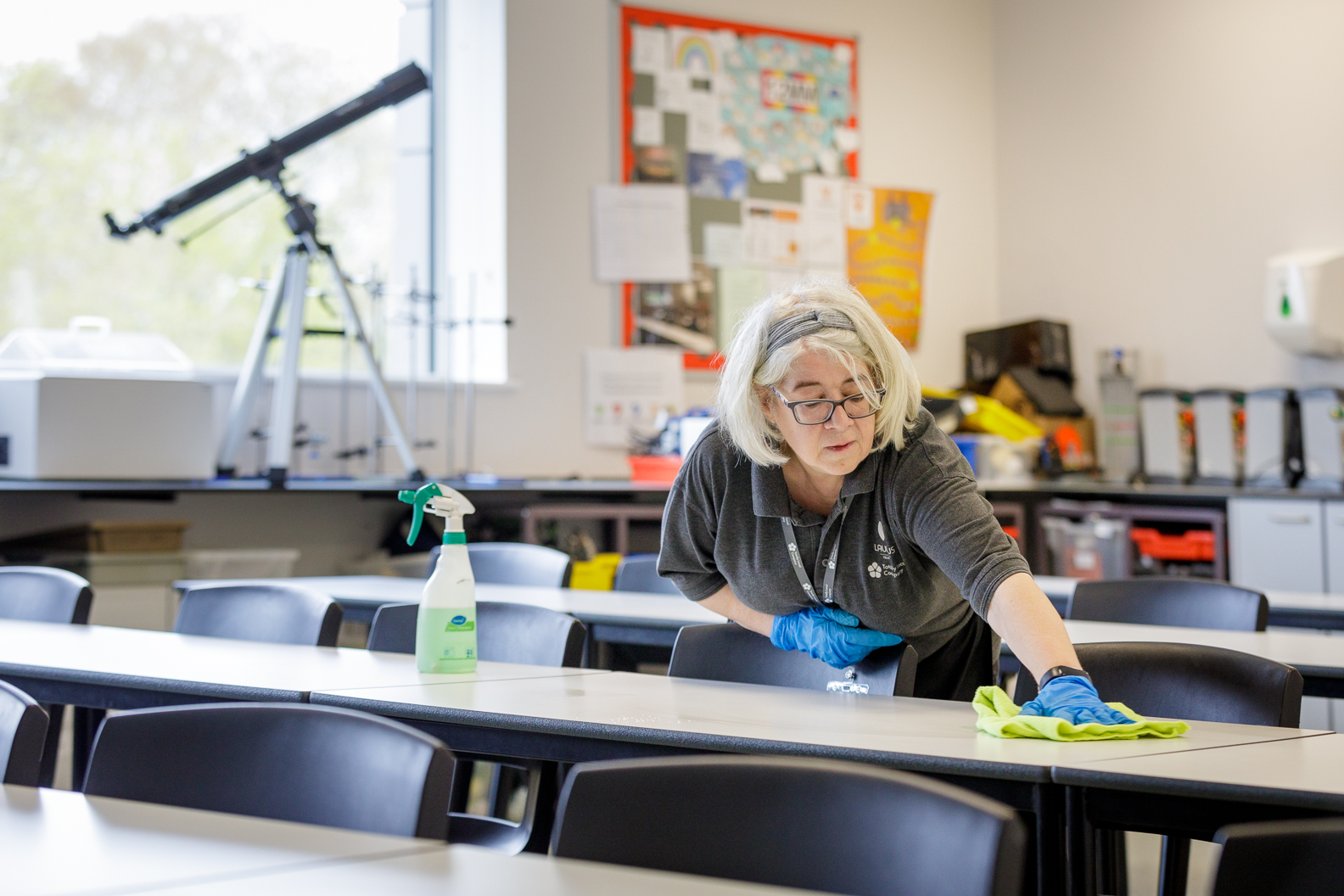 Posted On: 25 May 2022
Number of schools – 7
Scope of works
We have been delivering full cleaning services in an educational building environment for Cheadle Hulme High School since 2013. In 2018, Cheadle Hulme High School formed the Laurus Trust alongside 6 other schools in the Stockport and Greater Manchester area. Owing to our demonstrable high-quality service, exceptional standards and excellent client relationship, we were awarded the multi-school cleaning contract in 2019.
Evidencing our experience and capabilities in effectively delivering a multi-site cleaning contract, we provide cleaning services for the following schools:
The full scope of works that we deliver for each school includes:
Daily Clean
Window clean
Carpet clean
Hard floor maintenance
Fogging
Infection cleans
Challenges
Multi-site management
To meet the contract demands, we allocated 134 suitably qualified, experienced and trained Cleaning Operatives across the sites.
To meet the individual requirements of each school's representatives' requirements, as well as the building's physical needs, we designed a bespoke works programme. Ensuring efficiency, we designed our staffing model in accordance with the BICSc Guide to Standards, Specifications and Productivity.
We allocated staff and time against each school's clearly defined areas of cleaning. This enabled us to schedule the cleaning for each member of the team into "zones". Adding value, zoning provided Operatives with a sense of ownership/accountability and an in-depth understanding of the rooms' needs and the best cleaning methods required.

Ensuring sufficient capacity, at each location, Rachel Dargie, Head of Cleaning, estimated an average productivity per hour rate for each area, based on the following factors:
Room types
Number of rooms
Room sizes
The time required for Operatives to clean each type of room
We based our calculations on the industry average productivity rate per hour for each particular 'type' of area across the buildings.
Flexibility
As the majority of the schools on this contract were new-builds, opening officially in 2020, we had to coordinate our cleaning programme with the construction programme. Owing to a series of construction-related setbacks and delays, we experienced significant challenges in mobilising the project as planned. To overcome this, we adopted an agile, responsive and flexible approach. We maintained excellent communication with the schools to ensure that we were suitably prepared to manage the delayed/rescheduled mobilisation timescales.
For example, Silva Cleaning Operative, went out of his way to undertake additional work outside of his normal working hours at very short notice at Laurus Cheadle Hulme High School. This was achievable owing to our local presence – we directly employ 89 local people within the cleaning department.
The Estates Director shared that the work was "very much appreciated, completed without any problem at all" and asked to pass on his thanks.
Success
Evidencing the success of this project, we have successfully met 97% monthly Key Performance Indicators (KPIs), delivering all services on time and to the required standard. Demonstrating the effective relationship we have built with the client, we initially started with 4 schools and have since been rewarded with 3 further schools.
Added value
Supporting the schools to open and maintain continuity throughout the ongoing COVID19 crisis, we provided comprehensive infection cleans and fogging. This proactively helped to reduce the risk of transmission amongst pupils.
Testimonial
Evidencing our successful, client-centred approach, we received the following positive testimonial:
'Unfortunately the school was recently in the position of having a significant number of positive Covid cases. As a school we needed to do as much as possible in order to reduce the ongoing risk for the rest of our community. Andy and the TLC team were great. In addition to our regular cleaning they arranged very quickly for fogging of the school to be undertaken. They arrived on site as agreed and methodically worked through the school fogging in every room. The peace of mind it brought to us knowing that this service had been carried out cannot be underestimated and as a school we would like to thank TLC for their prompt and efficient service.'

Cathy Wilks, School Business Manager
Hazel Grove Primary School