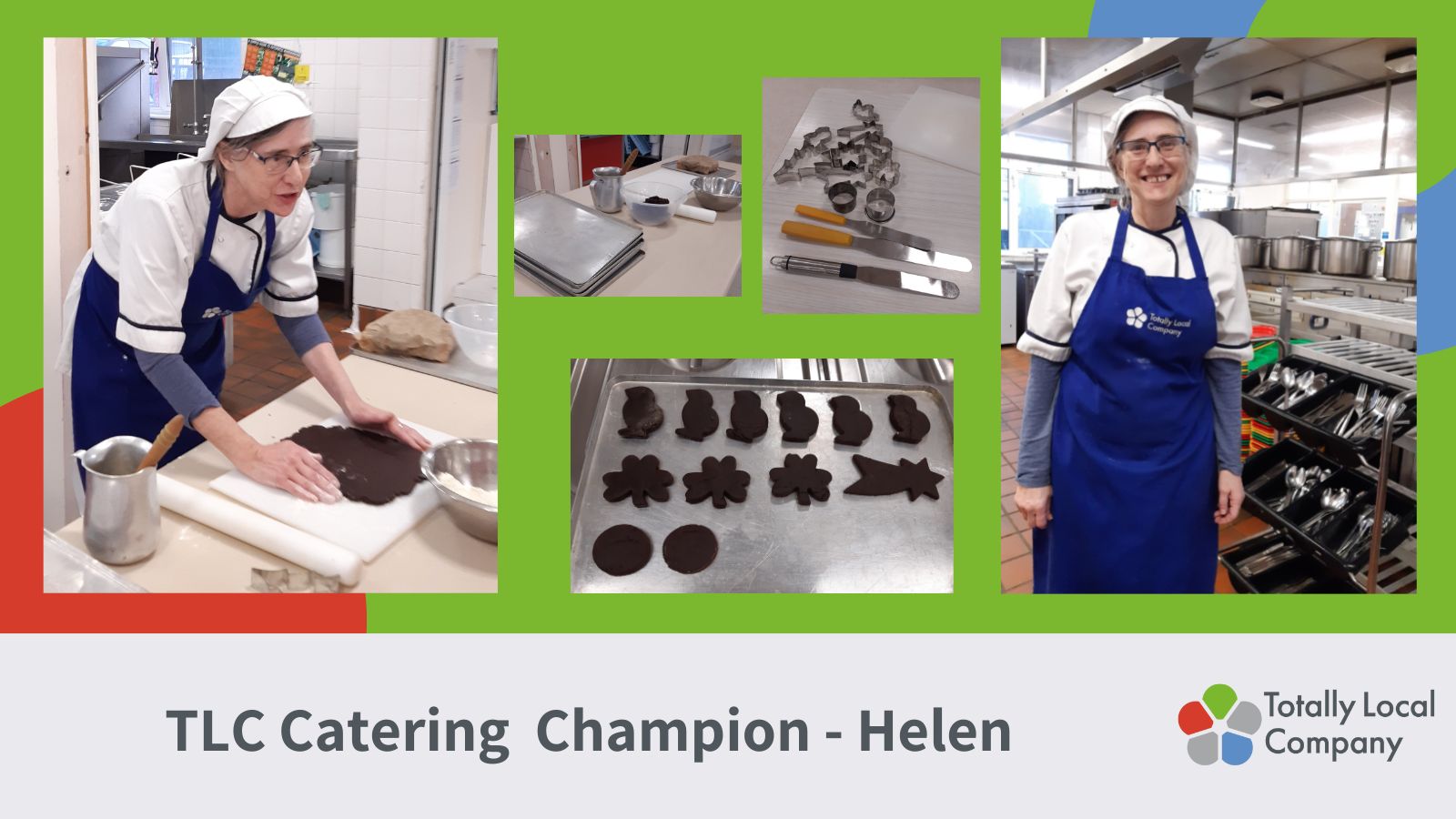 Catering Champion – Helen
Posted On: 21 Dec 2022
Today we are focussing on another of our fantastic Totally Local Company Catering Champions.
Helen has been working in kitchens for 41 years and has been a Cook in Charge for a phenomenal 36 years!
She works at Birchfield Primary School, Fallowfield, and since 2019 has been running an after-school cooking club.
Helen was asked to create a club with a focus on healthy meals. She agreed and runs this with the support of a Teaching Assistant. The school also runs clubs with a focus on exercise – so it was felt this would form a really positive combination for the children.
Each group comes along for six weeks and is taught different elements of cooking. It started with year six pupils, but now each group of around 10 children comprises mixed ages from across the school.
This year there is a specific focus on creating a healthy packed lunch. Across the one hour sessions the children learn to cook or make different elements that form a packed lunch – from grating the egg to go in a sandwich to cutting up veg sticks.
The club is all about teaching skills, so even in week one the children are learning to grease trays, to roll out and to cut (using cutting shapes – as you can see from the photos). Moving forward they do everything from weighing items to cleaning the tables and sweeping the floor.
There is a strong safety-first focus – starting with washing hands before and after cooking. Also from week one the children play games – including guessing the optimum temperatures for a fridge and a freezer. They are also introduced to the importance of a temperature probe – and they'll later use it for checking the temperature of their fish cakes.
The children are able to take their skills home too – some of the food is finished off at home (as it wouldn't be cool enough to safely carry home in time). The following week this provides a great opportunity to find out what their family thought of the food.
There is also a growing element – with apple and fig trees onsite – apples are collected by Helen for a crumble, and after Christmas – cress seeds will be grown in egg shells.
The children get a great experience over the six weeks – a huge thanks to Helen for making such a huge difference in her school.
We're proud of all our teams – including all those who work in our schools – and the fantastic work they do.
We're looking for more people like Helen to join our Catering team. If you'd like to know more about cooking or assisting in one of our school kitchens – please call Rachel on 07974 629804 or Jayne on 07800 618586 or email our recruitment team: recruitment@totallylocalcompany.co.uk