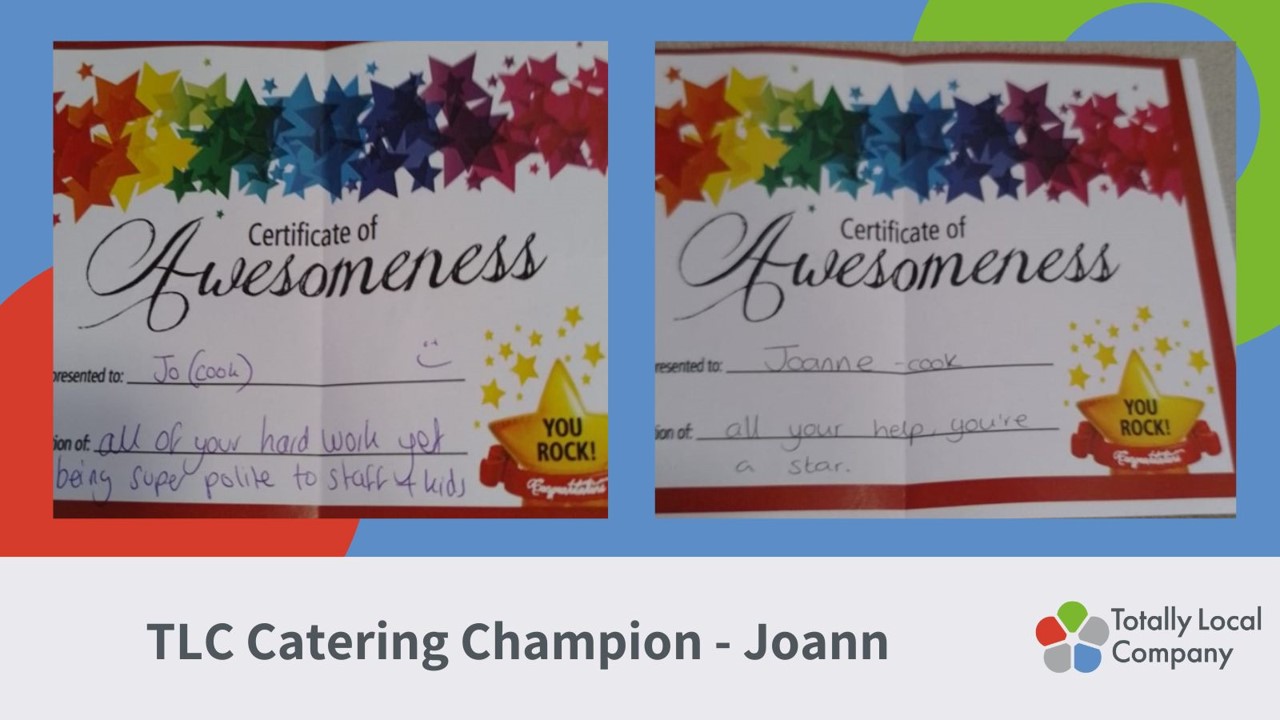 Catering Champion – Joann
Posted On: 24 Mar 2023
Today we'd like to let you know about another of our Catering Champions.
Joann is Cook in Charge at Castle Hill High School, a community Special Education School in Offerton.
She's worked for TLC twice, first with Stockport School in 2004 and then returning to us at Peacefield Primary in 2008. Like a number of our Cooks, Joann started as a GA. She then moved on to be a Mobile GA, a Mobile Cook and now a Cook in Charge.
We often highlight family connections at TLC – well there are four, yes FOUR, TLC Cooks in her family! Joann undertook her Cook training with Step-Mum Elaine at Banks Lane. In addition, Joann's sister Kirsty and daughter Leah both also work for us as Cooks In Charge.
Joann has been at Castle Hill for almost a year now. She loves cooking for older children and changing their perspective through food. A child can be having a bad day and she can make a real difference. This has been noticed by the school – and she recently received two Certificates of Awesomeness from the school – a prize designed for teachers!
The feedback for her school awards shared how kind, caring and supportive she is, and how Joann goes out of her way to help children.
She shares that there is no better feeling than cooking for someone and for them to be so happy with what she's made. Joann also highlighted that when a 16 or 17 year-old takes the time to say how much they like the food – it really is a big deal.
Along with her role at Castle Hill, Joann has been mentoring one of our new Cooks – Claire at St Philips Catholic Primary. Claire has moved into the Cook in Charge role from her former role as GA at the school. Joann supported her for around three months – focusing on ordering, menus and useful kitchen tips. She helped to build Claire's kitchen confidence and Joann shared Claire is now fully up to speed and doing really well, describing her as 'fabulous'.
We're very proud of Joann's work at Castle Hill, her mentoring and of course her recognition from the school. Well done Joann.
We're looking for more people like Joann to join our Catering team. If you know of anyone who'd like to come and work in our school kitchens – please ask them to call Jayne on 07800 618586 or email our recruitment team: recruitment@totallylocalcompany.co.uk