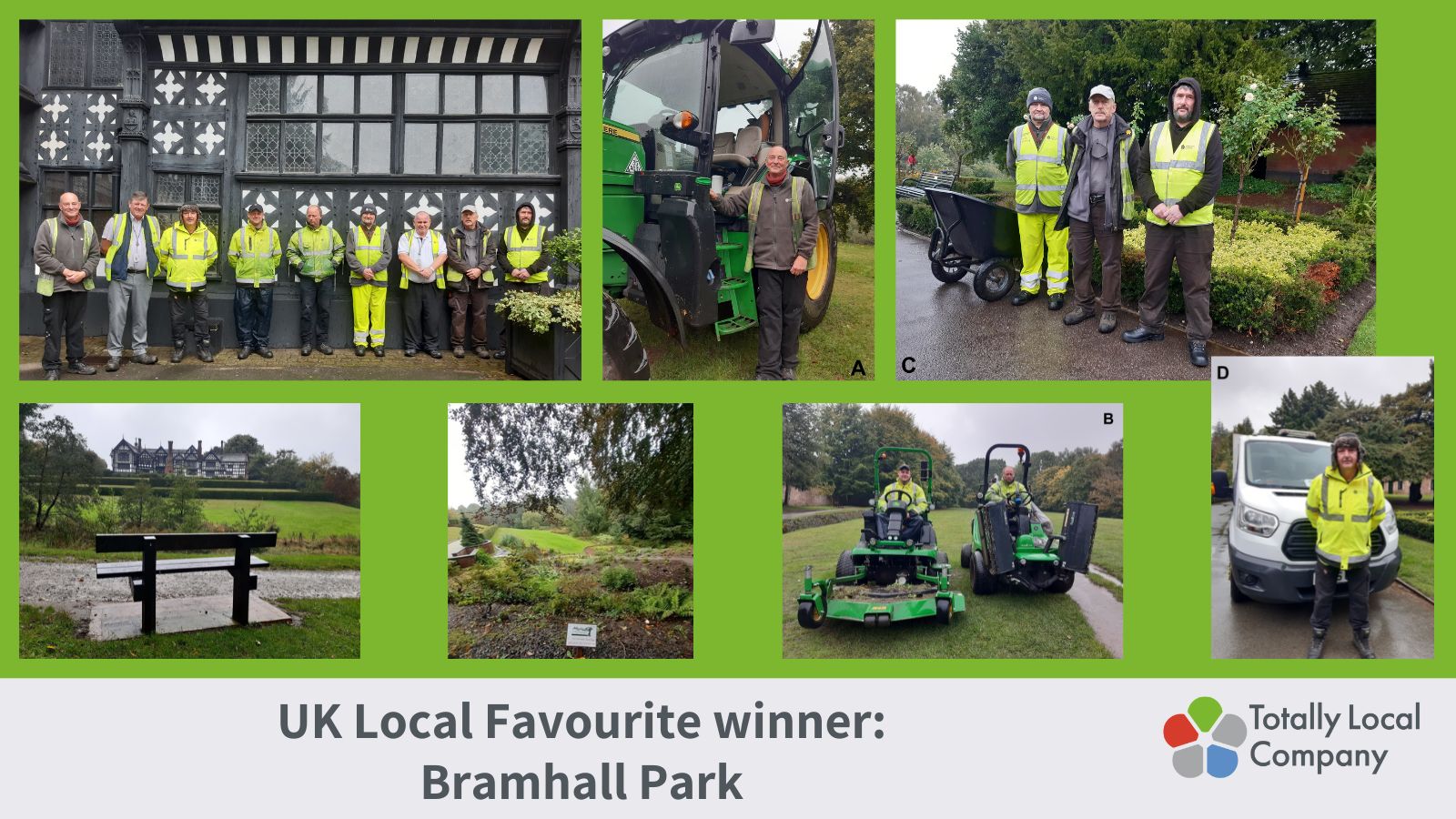 Our Bramhall Park Award-Winning Team
Posted On: 03 Nov 2022
Massive congratulations to our team making a huge difference at Bramhall Park.
Fields in Trust has announced the UK's Favourite Parks 2022, based on a public vote.
You can find details of all the winning parks here: https://www.fieldsintrust.org/favourite-parks/local-favourites
Bramhall Park is the second fantastic award-winning 'local favourite' Park that Totally Local Company support. Parks Supervisors Steve (second left) and George (third right) are pictured with the Bramhall team.
We'd like to share details of our team who do such a great job:
A – Chris – tractor mows large areas of grass in the park. In the winter Chris also puts safety-first, keeping the paths free of leaves.
B – Shaun and Raymond (l-r) – ride on mowing team, they cut the large areas in the park that the tractor can't reach.
C – Stephen (l) is permanently based at Bramhall Park. He keeps the whole area tidy. As a Hygiene Operative he works over the weekend too – really critical for such a busy park.
Dave (c) and John (r) – gardening round 1 team. They cover Bramhall and Woodford areas. In Bramhall Park they work on the shrub and rose beds, croquet lawns and general mowing.
D – Ian, also a Hygiene Operative, keeps the park tidy emptying all the bins.
Our Playgrounds team look after the children's play area, added to the park three years ago. Every two weeks they check the space and equipment to ensure it is safe for those using it. We're particularly proud to have refurbished a racing car that was set to be removed – at the request of local residents.
In addition to our work: the Friends of Bramhall Park do an incredible job across the park. You can see a section they have been working on recently in one of the photographs. Their recent activity also includes work under the beech arch in the park.
You can take a look at more of their work here: https://www.stockport.gov.uk/groups/friends-of-bramall-hall
Huge thanks to everyone in our TLC team who works at Bramhall Park (and to those who worked there previously – including our colleague that the bench pictured is in memory of). We're really proud of all the work you do at this beautiful park.