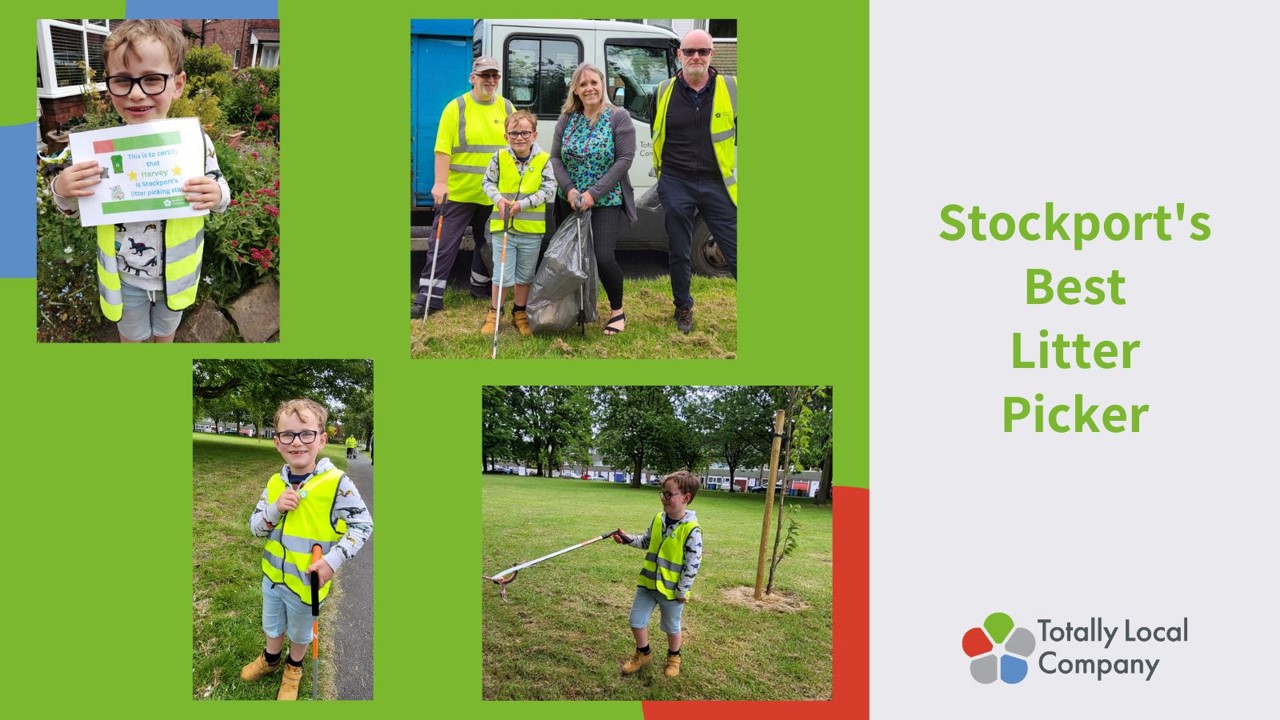 Stockport's Best Litter Picker
Posted On: 09 Jun 2023
Stop the press. We have found the best litter picker in Stockport.
Six year old Harvey picks litter not only on his way to and from school every day, but he's even given talks to three classes in his school about his litter picking passion!
Harvey's great Aunt Julie, who works as a Community Recycling Officer in our Environmental Services team, asked if there was any chance our TLC Streetcare team could make his day by joining him in litter picking. The team were more than happy to help.
They were pleased to join Harvey and very impressed with how much litter he managed to pick. And it didn't stop there, after leaving us – Harvey walked the long way home with his Mum and picked up a further two bags of litter!
We are so proud of Harvey, who is in year two at Banks Lane Infants school. His school talks to three year one classes have inspired more children to want litter pickers, and as his Mum says – more importantly will encourage those children to not drop litter themselves.
He connected his talks to a book his class were reading at the time: The Bog Baby, written by Jeanne Willis and illustrated by Gwen Millward. As part of his presentation – he even pretended he was in the fictional Bluebell Wood (from the story) picking up litter. He had props with him too: his litter picker and, always thinking of safety when he is litter picking, he had his high-vis jacket on as well. His fellow pupils absolutely loved his talks and speaking in front of different classes has really boosted Harvey's confidence.
Totally Local Company and his fellow pupils are not the only ones proud of Harvey – as you can see from one of the photos – he has recognition from Blue Peter for his litter picking and is a proud recipient of a Blue Peter badge.
He also has a very, very special award from his school. Following his talk he was awarded the inaugural Inspiration Certificate from his Headteacher. Well done Harvey!
We were so pleased to be able to spend time with Harvey and could see how passionate he is about keeping the streets of Heaviley clean. Although Harvey is a very experienced litter picker, the team were able to share a few tips on bag holding – and in return Harvey shared his top tip for picking up crushed cans.
We are so proud of Harvey and were thrilled to be able to give him a nice new litter picker to take home with him – along with a certificate recognising his fantastic efforts in Stockport.