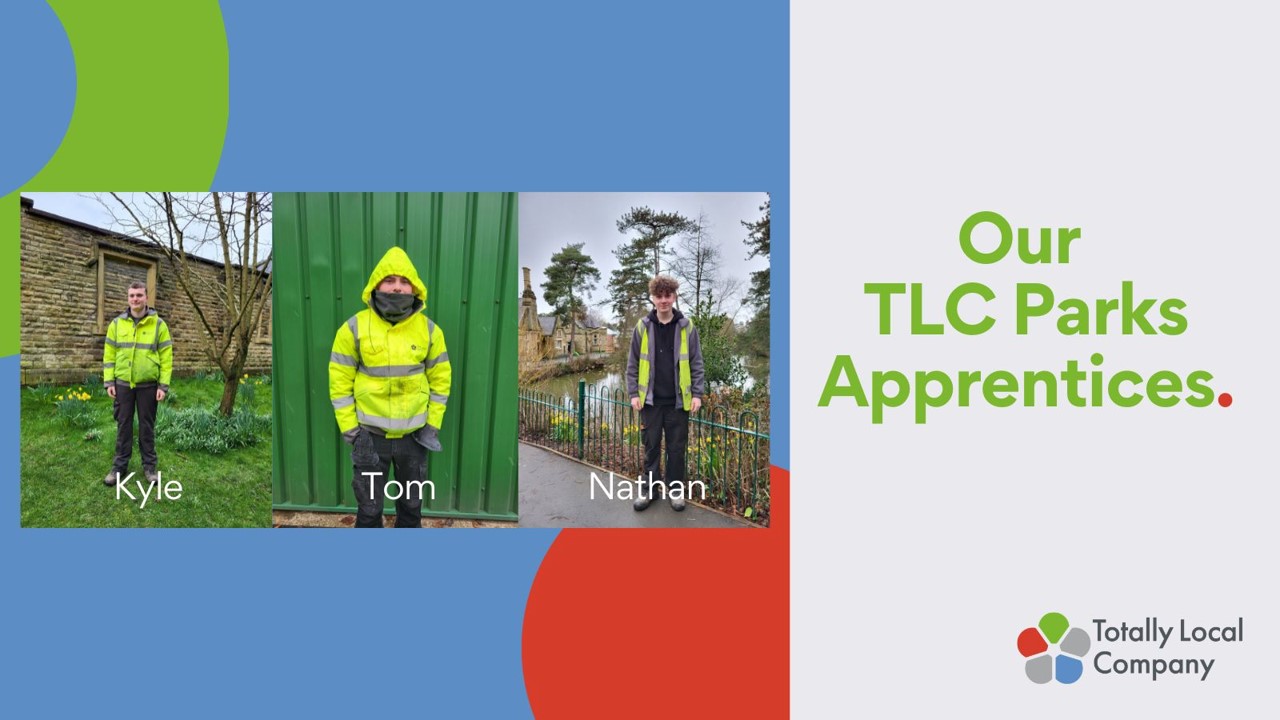 Posted On: 26 May 2023
We're really pleased to introduce you to three Apprentices within in our Parks team: Kyle, Tom and Nathan. They are all undertaking a two-year Horticulture Diploma with TLC and Oldham College.
As part of their course they produce a portfolio, updated monthly, covering all the new work they have undertaken. This forms part of their final assessment – which also includes an onsite test and an online exam.
The course is really varied – and it gives our Apprentices the opportunity to learn valuable skills from across the Parks arena. It also provides practical experience and gives them tools for the future.
Here are our three Parks Apprentices:
Kyle
Kyle has been with TLC for around 12 months. He started with us on a temporary tree-planting contract last year. We were so pleased with his work that we asked him to join us on an Apprenticeship, which he started in December.
Kyle has already received a lovely hand-written thank you from a member of the public for his work, along with two colleagues.
Kyle enjoys the variety of the Apprenticeship, where he finds himself doing something new every day. He currently works with Garden Team 3/4 which cover 30 sites over a large area – working across them using a A-Z rota.
Tom
Tom has been with us for around 10 months and was a plasterer prior to joining TLC. He got in touch with us after seeing apprenticeships advertised on our website.
Tom enjoys the 'good variety of jobs' that the Apprenticeship brings. He undertakes mowing and cutting back and particularly likes football pitch renovation and line marking. He sees the difference he can make getting pitches ready to be played on again.
He's been given the opportunity to take part in the tree planting this year and embraces the chance to try things he's not done before.
Nathan
Nathan joined us around 10 months ago direct from College.
He works on the fine turf team – getting bowling and cricket pitches ready for the start of the season (April). Nathan enjoys spiking (airing the greens), mowing and scarifying (removing moss), along with the tree planting he has been involved in.
Another key component he highlighted is learning to use different equipment. Keeping health & safety forefront – they learn how to use hand held equipment and the associated paperwork. Both aspects are important, they need to record length of time using equipment to prevent HAVS (hand-arm vibration syndrome).
Support for our Apprentices is something we really pride ourselves in, and between them our Apprentices took the time to give particular shout outs to Keith, Dave, Dale, Peter, Shaun and Jake who have been key in helping them to date.
We wish our Parks Apprentices all the very best for the remainder of their course.