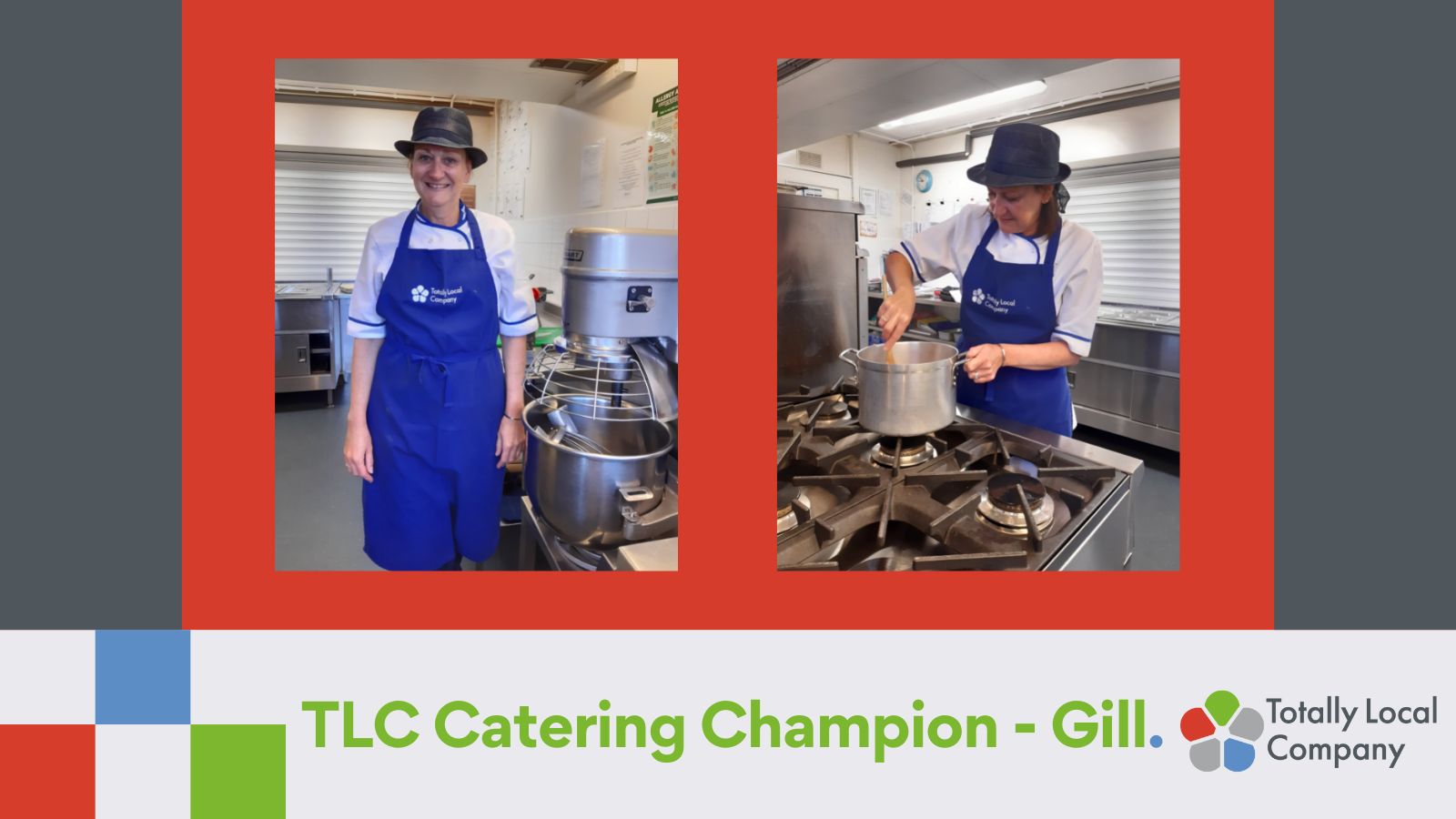 Posted On: 29 Nov 2022
Today we are focussing on yet another of our Catering Champions.
Gill has been with Totally Local Company for seven years at Cheadle Roman Catholic Junior School.
Prior to coming to work with us, Gill worked in an office – she had no experience working in a school. although she had done voluntary work at her children's primary (and did always end up helping the children cook!).
Her first role with TLC was as a General Catering Assistant. This role, working two then later three hours per day, really suited Gill as her children were quite young at the time.
We're proud to say that Gill is now our Cook at the school. She initially covered the Cook in Charge role for a single day when the previous cook was unavailable. The Cook and the team of managers supported her, giving her the confidence to step up. Their belief in her made her realise she was more than capable of doing the role.
She started to step-up on a more regular basis and really grew into the role. When it became available – she was promoted into the role permanently.
Gill's children are now at high school, she loves that her role as Cook in Charge still allows her to be there for them at the start and the end of every school day. Term-time working also allows her to do activities with them throughout the school holidays.
All our Catering teams work in partnership with their schools. Gill is no exception – she describes her school as 'amazing' and shared how helped the staff are.
Gill doesn't just support her own school. During covid, as well as providing packed lunched for key worker children at Cheadle RC Juniors, she also supported a Hub created at Oaktree Primary.
The Hub made food parcels and lunches covering several schools. These supported vulnerable families in the area. Gill would go and help at the Hub when she was able to. Our TLC Commercial Cleaning team also got involved – delivering the parcels and lunches to those who needed it.
Thanks to Gill and everyone involved in this Hub – and others across the borough. We're proud of the support you provided during this time and everything you do in partnership with your schools.
We're proud of Gill, and everyone who support our schools – from Greenspace & Treeworks to Commercial Cleaning and from Signs to Commercial Waste and Catering.
We're looking for more people like Gill to join our Catering team. If you'd like to know more about cooking or assisting in one of our school kitchens – please call Rachel on 07974 629804 or Jayne on 07800 618586 or email our recruitment team: recruitment@totallylocalcompany.co.uk