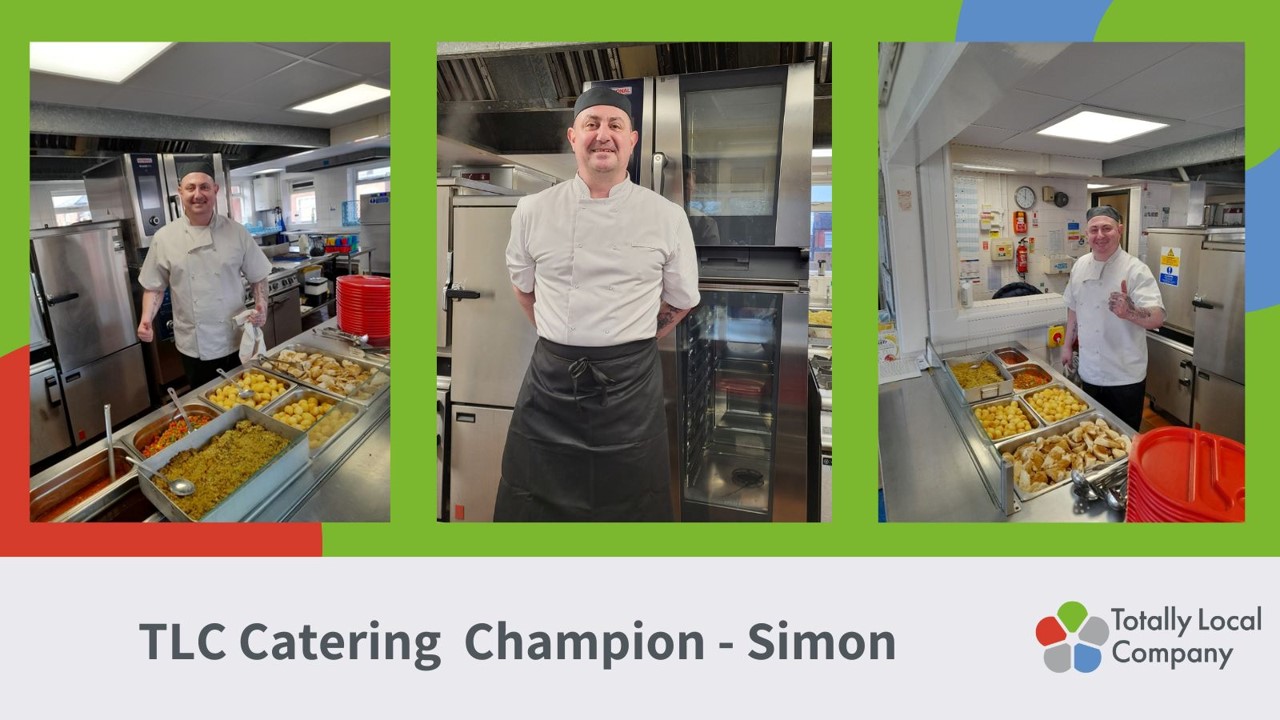 Catering Champion – Simon
Posted On: 03 Mar 2023
Today we'd like to introduce you to another of our Catering Champions – Simon.
Simon joined Totally Local Company in January – and is already making a fantastic impression at Alexandra Park Primary School in Edgeley.
He comes to TLC via a really interesting career path that we'd like to share with you, along with his first impression of working for us!
A chance conversation as a 15 year-old saw Simon leave school and the very next day started working at an army base as a kitchen porter. Like TLC, the army and their catering partners are good at spotting talent and providing an opportunity for qualifications. A Sergeant Major encouraged him to become a cook and he completed his NVQs during that time.
His career saw him working at 20 different army camps, and by the age of 26 he was Head Chef over five kitchens, making breakfast, lunch and dinner for between 20 and 1200 soldiers!
Moving forward his career included a seven-year stint as Head Chef at an NHS Hospital in Stockport.
More recently Simon became a little disillusioned with a particular cooking role and opted to step away from the kitchen altogether and work as a labourer for 12 months.
He wasn't looking to move back into a kitchen but a chance CV update (adding certificates) brought him to our attention (and to the attention of quite a few others too!).
At his interview for one school, it was felt he'd be a great candidate for Alex Park, a larger school, and that the children (who had never had a male cook before) would absolutely love him.
Well…that has definitely been the case so far! The children are trying lots of mains they wouldn't normally try – and then asking for seconds! Simon is building a great relationship with them – and there is even dancing involved on occasion!
And it's not just the children who hold Simon in high regard. The number of staff taking school meals has gone from zero to six and will likely be rising again shortly. One teacher declared that his veggie cottage pie beats a meat pie hands down and another said the pasta carbonara was the best she'd ever had! We're really proud of the fabulous feedback that Simon has been getting from across the school.
Cooking for the army and at a primary school may sound like worlds apart but Simon shared that a lot of meals are quite similar. Whilst he was able to make recipes up for the army – from an allergen perspective schools quite rightly need to have set recipes.
All our TLC cooks have the opportunity to contribute to our recipe development – and Simon is looking forward to using his knowledge to create new, flavoursome and interesting meals for us…and importantly for the children in our schools.
As with all our new cooks, Simon has been getting TLC training on the job – but at the same time – he's been taking the time to train new members of his team. Other than Joan, who has been with us and the school for a phenomenal 45-years, Simon has a brand-new team working with him.
We're proud of everything Simon has achieved in just a couple of months and are over the moon that he feels 'this job with TLC has given me my passion and happiness for cooking back'.
Welcome to TLC Simon!
We're looking for more people like Simon to join our Catering team. If you know of anyone who'd like to come and work in our school kitchens – please ask them to call Jayne on 07800 618586 or email our recruitment team: recruitment@totallylocalcompany.co.uk