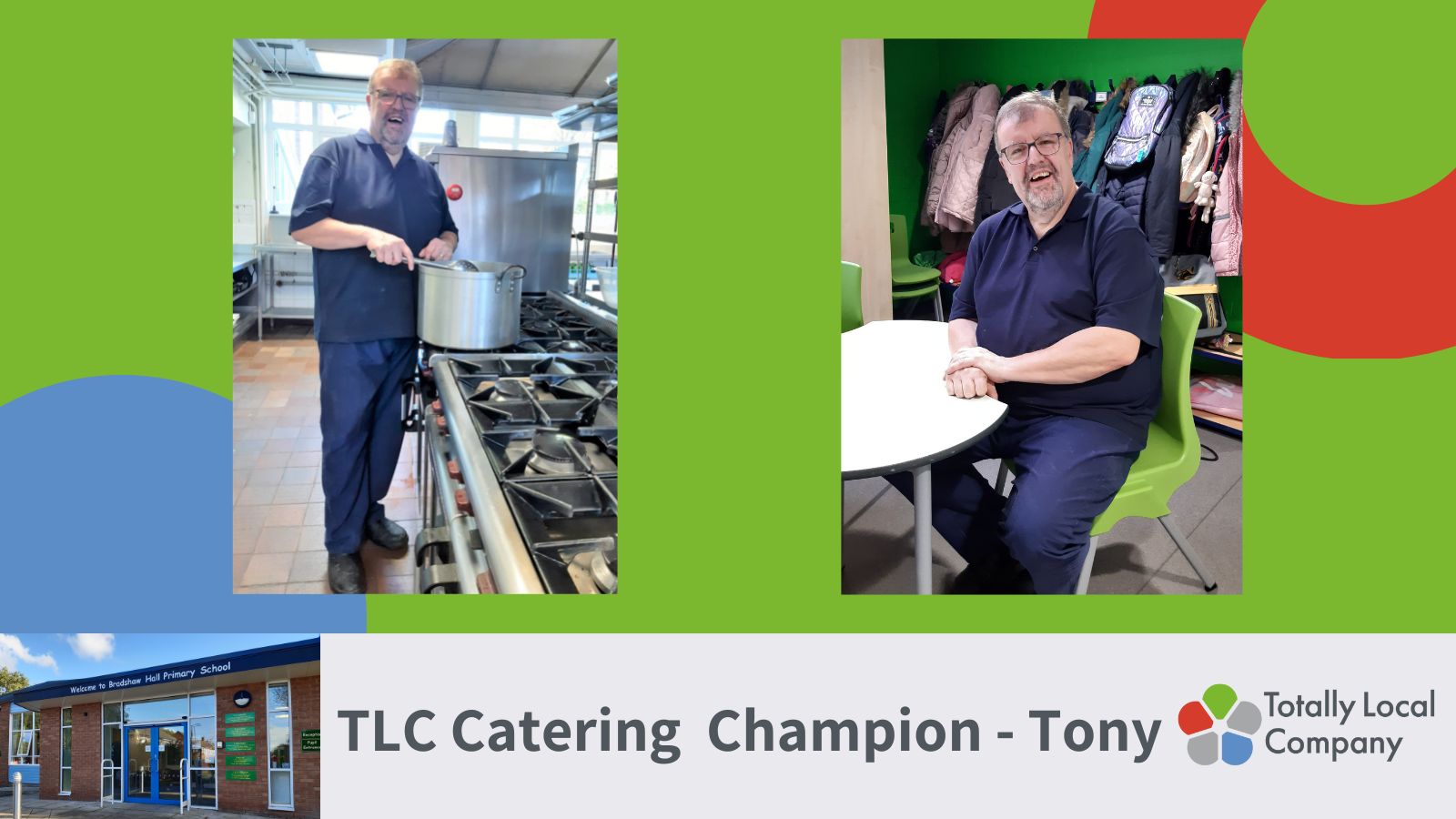 Posted On: 09 Nov 2022
Totally Local Company has teams in around 70 school kitchens in Stockport and beyond. Like to join our incredible team? Contact info below…
We're proud to share the difference Tony, our Cook in Charge, makes to the children at Bradshaw Hall Primary School, Cheadle Hulme.
Tony initially came to the school, that his children attended, because he wanted part-time work close to home. He's now been at Bradshaw Hall for a fantastic 26 years. Prior to that he spent 12 years at the Salvation Army where he cooked in a men's homeless shelter.
Tony is our Cook in Charge – but he does so much more than that…
At lunchtimes, Tony and his team of three General Catering Assistants feed around 280 children (with higher numbers on fish & chip day!)
During the last 12 months Tony has supported the school after his shift has finished every Friday. He works with a different class every half-term to give the children a hands-on cooking experience.
They make items like flapjack or pizza (a school favourite) – which they can then eat at school or take home to share.
Here's how the cooking experience works using pizza (of course!) as an example:
 Tony makes the pizza dough
 The children then shape it, adding their chosen toppings
 Tony bakes the pizza
 Finally, the best bit – eating the pizza!
He also 'brilliantly' supported breakfasts the school introduced for a period of time prior to covid. This school-led initiative was outside of his TLC kitchen – but of course Tony stepped in to help.
The partnership Tony has with the school is absolutely key to his success. The strong relationship also contributes to the high numbers of children taking school dinners (approx. 70%). The Headteacher is really supportive of Tony and his team and he in turn supports the school.
For example Tony contributes to parents' and new parents' evenings. This can quite often result in recipe requests – especially when pizza is served – the children and parents love it!
We're proud that Tony, and our whole Catering team, represent Totally Local Company working in partnership with schools across the region.
We're looking for more people like Tony to join our team. If you'd like to know more about cooking or assisting in one of our school kitchens – please call Rachel on 07974 629804 or Jayne on 07800 618586 or email our recruitment team: recruitment@totallylocalcompany.co.uk