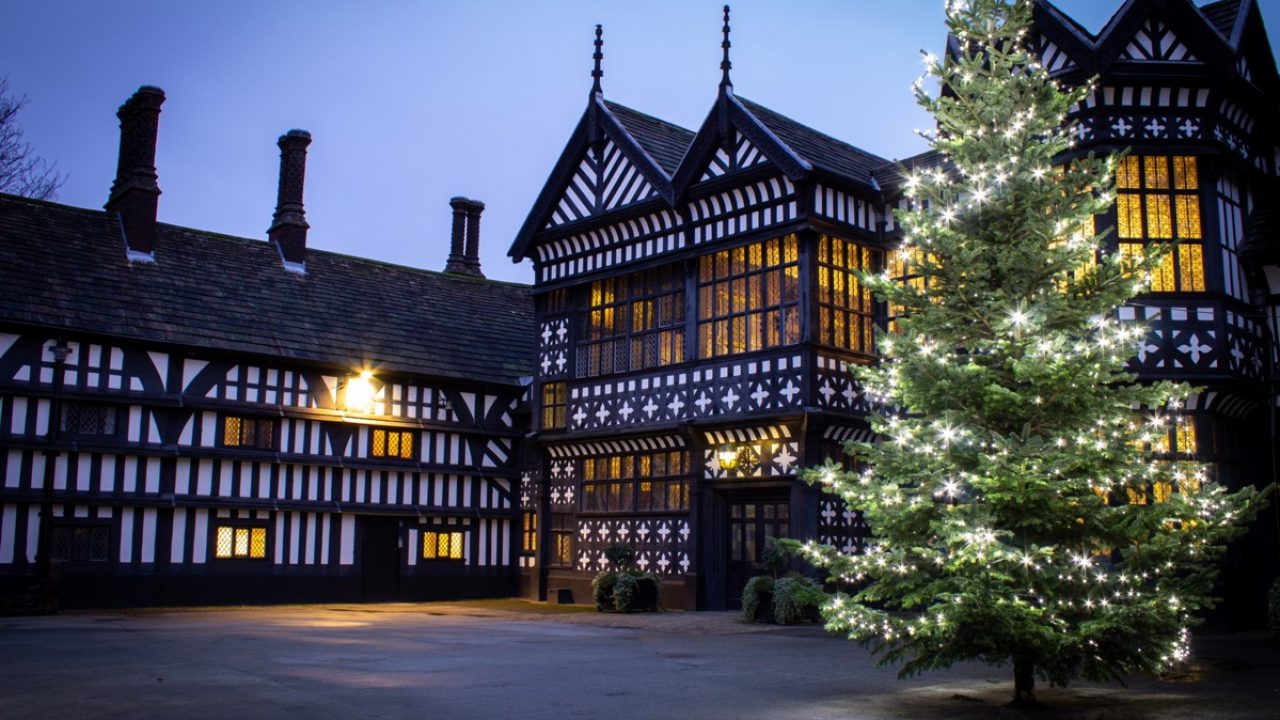 Lighting up our Buildings, Streets and Trees
Posted On: 05 Mar 2020
'Bramhall Hall' December 2019
During the year, our teams are busy managing the day-to-day facilities for Stockport Town centre and the surrounding areas of Greater Manchester.  Leading up to Christmas, our Street Lighting, Commercial Grounds Maintenance and Arborist teams, work together to manage additional installations. This includes the preparation for lighting up our streets and buildings and installing Christmas trees and lighting in advance of the festive season.
Stockport Town Centre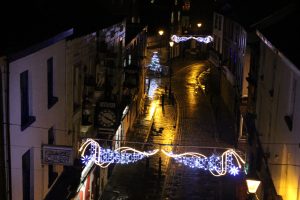 Our teams work tirelessly come rain or shine, this often means working in the dark during difficult weather conditions at this time of year. Safety of delivery is of course paramount, which includes safety for our teams and members of the public.
In advance of Christmas 2019, the Street Lighting team installed 375 LED Christmas motifs on lighting columns, lit up 41 cut Christmas trees including the Stockport Town centre tree, lit up 24 live trees, lit up two cribs and carried out 14-tree switch on's at local events.
The Commercial team installed 41 cut Premium Nordmann Fir trees at the designated locations across the borough. The trees range in height from 16ft to 35ft, which is the height of the tree in Mersey Square; most of the trees across the borough are 22ft tall.
It is important that our teams work in harmony to ensure operations run smoothly. The work also requires additional support from the Arborist team, including the Mersey Square, tree installation.
The team this year also responded to a request from SMBC to re-locate the Christmas tree at Market Place in the Town Centre. This tree was moved to a more prominent position in front of the Market Hall
Stockport Market Place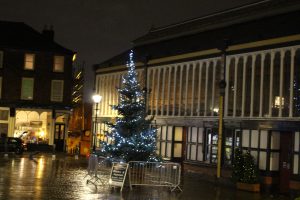 To achieve this safely, the Christmas tree is planted in a tub that is weighted. When the tree is removed later on, the tub will then remain on site and be re-planted with bedding plants similar to others on site.
The team also installed additional trees this year at Roscoe's Roundabout, Cheadle, and Mealhouse Brow, Town Centre.
Street Lighting installed the Christmas tree lights for St Ann's Hospice at Heald Green in advance of their 'Lights switch-on in December; This is an annual service that Totally Local Company provide to support the charity.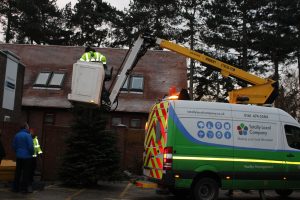 Christmas Tree Installations 2019 – The list is endless!
Town centre Tree – Merseyway, Queensway, Heald Green,
Garners Lane, Cheadle, Windlehurst Road, Hawk Green,
The Hollins, Marple, Town Street Market, Marple Bridge, and
erect Tree at Bredbury (nr. Cow and Calf or George Lane)
Woodley,
Torkington Park, Hazel Grove, Lancashire Hill. Heaton Norris,
Hempshaw Lane, Offerton,
Councillor Lane, Cheadle, St Peters Square, town centre,
Romiley Recreation, Castle Street Edgeley x 2, Heaton Moor,
(Moor Top) Heaton Moor, Shaw Road, Heaton Moor
First House, Brinnington, Cheadle green, Cheadle,
Gatley Rec, Gatley x 2, s/o the post office,
Old Rectory Gardens, Cheadle, Romiley precinct,
Romiley, Blossoms Corner, Higher Hillgate, High Lane Clinic,
High lane, Houldsworth Square, Reddish,
Mealhouse Brow and Roscoes Roundabout.
Well done and thanks to all of our Street Lighting, Grounds Maintenance and Arborist teams for all of their services and safe delivery during another very busy and successful year.