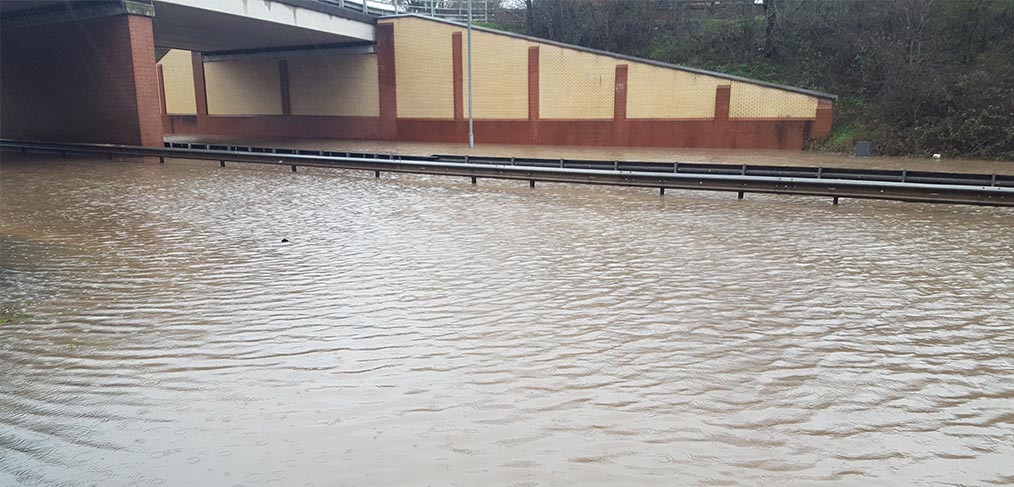 Praise Floods in for Totally Local A555 Teams
Posted On: 22 Mar 2019
The A555 Manchester Airport link road closed this weekend, following a month's worth of rain hitting Greater Manchester.
The road, which runs between Manchester Airport and the A6, "turned into a swimming pool" according to Greater Manchester Police, causing several vehicles to be abandoned on Saturday evening.
Totally Local Operational Supervisors were called to investigate why water was not draining away. After wading through waist high water, supervisors identified a broken pumping station. Whilst the station was repaired, Totally Local teams began the difficult task of reducing and cleansing an astonishing three million litres of water from the flooded area.
"I'm really proud of everyone who helped this weekend," Totally Local Operational Supervisor, James Wexler said. "Our teams understand how important the A555 is for our community. They worked tirelessly to remove the water and make the road safe to reopen."
The road reopened Monday 18th March. Soon after, praise for our teams came flooding in.
"Please pass on my thanks to the all those who assisted this weekend with reopening the A555; particularly the road sweepers who stayed late to clear the road. I'd also like to thank the people who put up the electronic signs and extra cones out, the street lighting team and sign shop, who quickly created diversion signs." Sue Stevenson – Head of Highways and Transportation, Stockport Council.
"The team at Totally Local were very professional and confident in all my dealings over the weekend. It was reassuring to know competent people were in control of the situation. I'd like to thank everyone at Totally Local for their support and flexibility over this difficult weekend."
Mark Glynn, Director of Place Management, Stockport Council.